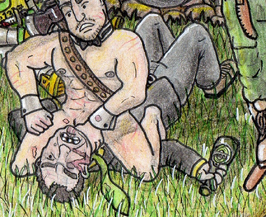 Lars Løkke Rasmussen
is a
Satire Character
requested
by Isac Mukul Barslev and introduced to the
OddRealm Adventures
-
roleplay
in
Pic 02
by
Amargaard
.
Lars Løkke Rasmussen is a shrexual human working for Shrek's Kingdom as jailor of the Pancake Prison.
Biography: Edit
Before Chapter 1 Edit
Lars Løkke Rasmussen began working for Shrek's Kingdom as jailor of the Pancake Prison, commanding the Junkbot-guards and handling the prisoners how he pleased. At some point members of the resistance - Palesting, Jes Dorph, Channing Tatum, Grethe and Am'ar Kardos became his prisoners, but Palesting was moved to a more secure prison.
The new leader of the resistance, Neptimir Putin, issued a rescue mission with Harry Potter and the Snowman providing Rasmussen's prisoners with axes to fight their way through his Junkbots. Channing Tatum beat up Lars, and they kidnapped him when escaping Shrek's Kingdom.
Description in Details: Edit
Appearance:
Lars Løkke Rasmussen is a plumb middle-aged human with dark short hair. He wears a yellow shirt, green tie and black suit. He lost several teeth after Channing Tatum's assault. In his right hand is a flask of tuborg beer.
Personality:
Perverse.
Powers and abilities:
Unknown.
Relations to Objects, Locations and other Characters: Edit
Tuborg - He occasionally drinks it.
Featured in: Edit
Chapter 1: The Adventure Begins
Trivia and Notes: Edit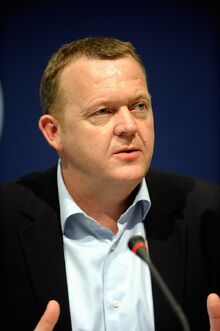 In the real world, Lars Løkke Rasmussen is the prime minister of Denmark and leader of the centre-right liberal party Venstre. Needless to say, his persona in the OddRealm Adventures, differ quite a lot from his real one.