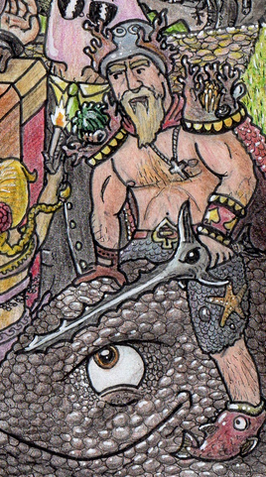 Neptimir Putin
is an
Original Character
requested
by Anders Bjerg and introduced to the
OddRealm Adventures
-
roleplay
in
Pic 02
by
Amargaard
.
Neptimir Putin is the human King of the Sea and leader of the resistance, after Palesting's capture. He issued a rescue mission to free Palesting and the other captured resistance-members at the Pancake Prison, which was succesful except Palesting's unknown whereabouts.
He is the father of shrexual special agent Vladimir Putin.
Biography: Edit
At some point Neptimir became King of the Sea, giving him command over various sea creatures, including his mount, the prune whale Zwiskoff. He fathered a son, Vladimir who became a shrexual special agent.
Neptimir also joined Palesting's resistance and came to be second-in-command of the movement. However, Palesting and several other members of the resistance were captured by the shrexuals, making Neptimir leader. He issued a rescue mission to free the others, ordering the Homiesexual, Tharesa and Kemleesha to serve as a distraction at the shrekstival while he, Harry Potter and the Snowman entered the Pancake Prison and provided the prisoners with axes to fight through Lars Løkke Rasmussen's junkbots.
When finally released, Am'ar, Jes Dorph, Channing Tatum and Grethe escaped atop Neptimir's prune whale, Zwiskoff.
Description in Details: Edit
Appearance:
Neptimir Putin is a bare-chested muscular blonde bearded human with light skin, wearing a jellyfish crown, shoulderpads with various coral-decorations, a silver cross necklace, and a red lard cape. On one hand he wears a leather glove and the other a bracer with resistance-symbols on it. His blue shorts are also made of lard and have several sea-features on them. His sword and boots are living fish.
Personality:
Stern, rarely revealing any other facial expressions than a serious one. He clearly has a strained relationship with his son.
Relations to Objects, Locations and other Characters: Edit
Featured in: Edit
Chapter 1: The Adventure Begins
Trivia and Notes: Edit