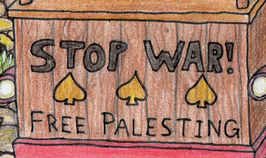 Palesting
is an
Original Character
requested
by Elisabetta Saiu Liz and introduced to the
OddRealm Adventures
-
roleplay
in
Pic 01
by
Amargaard
.
Palesting was the leader of a resistance-movement against Shrek III's laws of forbidden love. For this he has been taken prisoner, but his resistance lives on.
Biography: Edit
Before Chapter 1 Edit
Palesting founded the resistance to oppose Shrek III's tyrranical rule, but he was captured for his uprising.
In the resistance's rescue mission, the Homiesexual, Tharesa and Kemleesha were sent to serve as a distraction at the Shrekstival while the others would free the prisoners from the Pancake Prison. The Homiesexual's wagon sported a hand-painted message to free Palesting.
Jes Dorph emerged from the Pancake Prison, with a TV2 script in his hand, titled "Palesting", and informed Neptimir Putin that Palesting had been moved to a more secure prison.
Description in Details: Edit
Appearance:
Unknown.
Personality:
The Homiesexual stands up for his opinions and inspires others to do the same.
Relations to Objects, Locations and other Characters: Edit
Featured in: Edit
Chapter 1: The Adventure Begins
Trivia and Notes: Edit